For details and a list of participants, click
here
.

The most famous street in medieval Cairo is
al-Mu'izz li-Din Allah Street
. This is the street where Ali, the Amazing Egyptian Dude (aka, AED) was born, where his family lives, and where the family business is located. For the hundreds of years that Cairo was the capital of the Islamic Empire,
al-Mu'izz li-Din Allah Street
was the spine of the city.
To get to the quarter, you have to pass through one of the medieval gates located in the walls that surround it. Bab al-Futuh, located at the top of the map, is the gate (
bab
is door in Arabic) closest to the family buildings. Unmatched in wealth, power, and glamour, in its hey-day,
al-Mu'izz li-Din Allah Street
was the Rodeo Drive or Park Avenue or Champs-Élysées of medieval Cairo. Remember that just a couple of days ago the AED posted that his mom was born in a palace? I circled it on the map.
One of the most fascinating things for me about this quarter is the juxtaposition of old and new, rich and poor, young and old. Don't let old buildings, some of which look like they may crumble at any minute, fool you! A neglected building does not imply poverty in this quarter! Because much of this quarter is controlled by the Ministry of Antiquities, buying even an old and neglected building is unbelievably expensive and nearly impossible to do. And why wouldn't it be considering the area's rich history?
The street is home to a variety of historical monuments. Mosques, tombs, schools, mansions, warehouses, coffee shops, and fountains line
Mu'izz Street
as it twists for roughly a mile from
Bab Zuweila
to
Bab al-Futuh
, or Gate of Conquests, in the northern wall.
The charm of the ancient heart of Cairo is not that it's easy to navigate; it is not. Its appeal is found in the glorious architecture of the historical monuments that are found from one end to the other, the narrow alleys that spin off Mu'izz Street, combined with the hustle and bustle of life that make this quarter such a rollicking example of why Cairo was considered the heart of the Arab and Islamic worlds for such a long time. The Pyramids and Sphinx are amazing to see, but they are static representatives of a civilization long past. To see current Egyptian civilization, pass through Bab al-Futuh and take a leisurely stroll down Cairo's oldest street.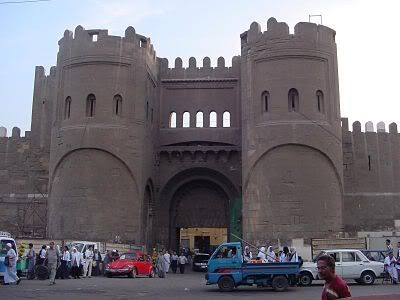 Bab al-Futuh, the entrance to the quarter of medieval Cairo where the AED and Naguib Mahfouz, the Egyptian Nobel Laureate were born and raised.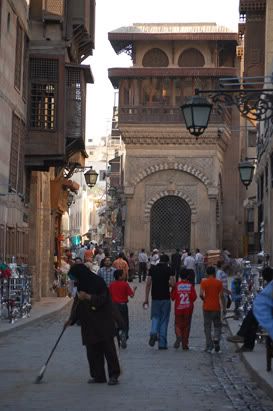 A section of Al Mu-izz that has been recently restored, all the way down to the cobblestone street. The Egyptian Ministry of Antiquities, in cooperation with some German historical agencies, have been steadfastly working to restore the quarter to its former glory.