To see other entries or to play along,
click here
.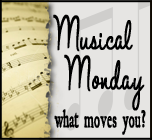 To play along or to see entries from more participants, click here.



Today's scribe: Carleen





How could I not choose a song with the same name as The Amazing Egyptian Dude? It's got a great rhythm, some nice "scenery," and ought to inspire everyone to put on a hip scarf and start shaking that belly!