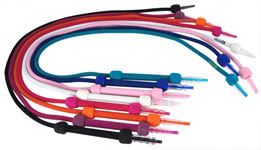 I don't know how the rest of you are with your hookah hoses, but I've got a favorite and am not really interested in using other kinds. So when the time came to replace my much beloved, and very well used,
Fifi hose
a few days ago, it was a no brainer for me to grab another one off the shelf. Ali, however, wanted to use a different hose this time around and suggested that I take one of our
Grand Washable hoses
instead. It was like giving up my binky to choose a different hose style, but I decided to give it a shot. And as much as I like the look and feel of my old favorite, I have to admit that I am compelled to give Ali props for the Grand.
With a larger circumference than the standard hose, the Grand makes smoking easy. Very little effort is required to get a good draw and plenty of thick clouds of smoke. The Grand's unrestricted flow gives credence to the old saying that less is more because you get more flavor and clouds with less work. The longer handle makes the hand-off of the hose much more secure because it's long enough to accommodate two hands comfortably.
But the best thing about the Grand is that it is the first authentic Egyptian hookah hose that is truly washable! Yes, you read correctly -- this is hose can be washed to remove lingering flavors. Now you don't have to keep a separate hose for Double Apple or, if you use only one hose for everything, continue to taste your last flavor long after the bowl is finished. Just run water through the body of the hose, and the problem is solved.
Husbands sometimes have really good ideas!