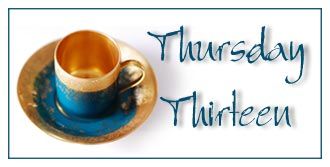 Header from Samulli.
To learn more about this meme, to play along, or to see other participants' entries, click here.
Today's Scribe:
1. You know that 1 minute = 1 hour
2. You say "estubid" and "owet" for stupid and out
3. You have billions of cousins
4. You call every person you've never met before "uncle," "ammo," or "khalu"
5. You love to laugh and smile
6. You have ten different foods at your dinner table
7. Your middle name is your father's first name, whether you are male or female
8. You're probably the loudest in your circle of friends
9. Your mom says things like, "Put za sings in za sing"
10. You ask your dad a simple question and he tells you a lengthy story about how he had to walk miles just to get to school and forgets to answer the question that you asked
11. You pronounce the letter B as P so that you say Bebsi, bolice, and bubby instead of Pepsi, police, and puppy
12. When you fly back home after a trip, you find 20 or more people waiting for you at the airport
13. You fight over who pays the dinner bill